Apart from texts and video calls, games are a great way to connect with friends in the ongoing Coronavirus lockdown. However, not many people are into typical smartphone gaming. Therefore, we are here with some of the popular WhatsApp games that are fun, simple to understand, and can be played over text with friends and family.
Best WhatsApp Games For Friends
Text Antakshri
In Character
Guess The Movie or Song
Kiss, Marry, Kill
Truth and Dare
1. Text Antakshri
As the name suggests, Text Antakshri requires you to sing a song, or rather text its lyrics. For starters, one of the friends will sing a song, and the other one has to continue with another song using the last letter from the previous lyrics.
This game is usually fun to be played in groups, and those who are shy in singing can also take part comfortably. Additionally, it'll also help you expand your music playlist.
2. In Character
This is a game where you have to pretend to be someone and wait for others to guess your character. You can change talking style, voice, and use pictures to portray a person. It can be anyone, ranging from your friends to a celebrity or politician. When you're ready, throw the trivia with "Who am I?" and wait for others to guess. Just saying, it's fun to troll your friends by copying and acting like them.
3. Guess The Movie or Song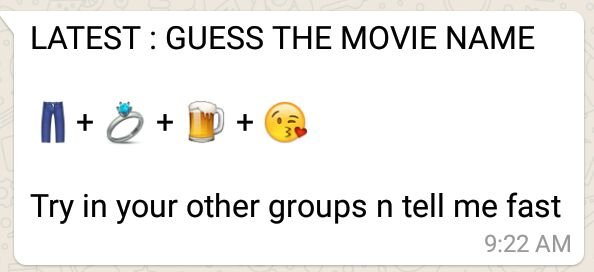 By now, you might've come across several WhatsApp forwards asking you to guess the movie name through the given emojis. Well, that's what this game is all about. Choose a movie or song and use your creativity and imagination to puzzle it into emojis. And then, wait for your friends to guess it correctly.
4. Kiss, Marry, Kill
It is an exciting WhatsApp game to play with friends, particularly close ones. You can ask the other players to categorize three given personalities based on who they would prefer to marry, kiss, or kill.
The options could either be celebs, actors, athletes, or any famous person for that matter. Play with your creativity, add twists, and explore your friend's love interests.
5. Truth And Dare
Do you miss playing truth and dare with your friends? Well, while spinning bottles on the floor with your loved ones is incomparable, playing the game on WhatsApp can still be a fun experience.
It can be played either in groups or individually with a person, say your crush. So, get ready with quirky questions you always wanted to ask them, but wait- don't go too far. You can also give dares, but that would require photographic proof to know that the task was completed.
Final Words
So play these amazing WhatsApp games with your friends, family and let the fun times roll. By the way, what's your favorite game to play on WhatsApp? Do let us know through the comments below. In case you've got gamers on your list, here are the best Android Games to play when you're isolated.