Top 10 OTT Platforms in India
Over-the-top media services aka OTT platforms in India have become pretty popular in the country past the Coronavirus pandemic. An over-the-top (OTT) media service is online streaming offered straight to viewers via the internet. OTT evades cable, broadcast, and satellite television platforms, the companies that traditionally act as controllers or distributors of such content.
However, due to the Covid-19 outbreak, several filmmakers and producers are releasing their blockbuster movies on the best OTT platforms in India instead of theatres. But, before we move on to the list of top OTT platforms in India, let us understand what OTT platforms are?
What is an OTT Platform?
An Over-The-Top (OTT) media service is a media service offered directly to audiences via the Internet, rather than a private network with proprietary equipment such as set-top boxes. OTT bypasses broadcast, cable, and satellite television platforms, the types of companies that usually act as controllers or distributors of such media and content.
The term OTT is most synonymous with subscription-based video-on-demand (SV0D) services that offer access to movies and TV shows, and content. Over-the-top platform services are accessed via websites on personal computers and mobile apps on mobile phones and tablets, and televisions with integrated Smart TV platforms.
The users can easily sign-up for services like Spotify, ALTBalaji, Netflix, Amazon Prime Video, Apple TV+, etc., and avail of content via the internet. A stable internet connection is a prerequisite for availing of the content.
List of Top 10 OTT Platforms in India
India has lots of choices when we talk about OTT services. Here's our hand-picked comprehensive list of the top 10 OTT platforms in India. This post will help you find the best OTT platforms in India with their current pricing and features.
Amazon Prime Video
Disney+ Hotstar
Netflix
MX Player
Jio Cinema
ZEE5
Sony Liv
ALTBalaji
Voot
Eros Now
1. Amazon Prime Video
Amazon Prime Video, or Prime Video, is another top-rated subscription and rental video streaming service or OTT service in India. It was launched back in 2016 and has been among the Top 10 OTT platforms in India from the day of its launch. The video-on-demand service primarily distributes films and television series produced by Amazon Studios or licensed to Amazon as Amazon Originals. The service also hosts content from other providers, live sporting events, content add-ons, and video rental and purchasing services.
You can join Prime Video to watch the latest movies and award-winning Amazon Originals at INR 329 for three months or INR 999 for a year. Users aged between 18 years and 24 years can get the INR 999 plan for half the price, i.e. INR 499.
Besides English, Amazon Prime Video is available in six different Indian languages. In addition, Amazon India also launched Amazon Prime Music in February 2018. Prime subscription presently also includes free Amazon music along with unlimited free, quick delivery.
Top 10 Popular Movies & Shows on Amazon Prime Video
Tenet
Sherlock Holmes
Parasite
Minari
Paatal Lok
Mirzapur
The Family man
The Big Bang Theory
Young Seldon
The Office
2. Disney+ Hotstar
Disney+ Hotstar is an Indian video-on-demand over-the-top streaming service owned by Novi Digital Entertainment, Disney's Star India subsidiary. It offers two paid subscription plans— VIP and Premium.  The Disney+ Hotstar's VIP plans focus on domestic programs and sports content (including Indian Premier League cricket). In contrast, the Premium plans feature premium international films and television series (including Showtime, HBO, and other American original series).
Disney+ Hotstar is among India's Top 10 OTT platforms because of its wide range of content and pricing. These are INR 499 Mobile plan, INR 899 Super plan, and INR 1,499 Premium plan. However, the benefits of each of them are different and have a validity of one year.
With the mobile plan, you can watch Disney+ Hotstar only on one device at a time with stereo audio quality and 720p HD video quality. You will be able to watch on a mobile device only with this plan. The Super Plan supports two devices at a time and Dolby 5.1 audio quality. In addition, you will get 1080p FHD video quality on this plan. The most expensive Premium plan will allow you to log in to any four devices at a time. The plan also supports 4K video quality and Dolby 5.1 audio quality.
Disney+ Hotstar is the best OTT channel for live sports and superhero movies.
3. Netflix
Netflix is an American subscription streaming service and production company that was launched on August 29, 1997. Also, Netflix is one of the most popular streaming services in India. It offers a library of movies and TV Series through distribution and its own production, Netflix Originals. As of October 2021, it has over 214 million subscribers globally.
Netflix can be accessed via mobile apps for both Android and iOS, the internet browser on computers, application software installed on Smart TVs, set-up boxes connected to televisions, tablet computers, smartphones, and on the list of Netflix-compatible devices.
The OTT platform offers four different subscription plans, including Mobile, Basic, Standard, and Premium. The Mobile plan costs INR 199/month with 480p streaming quality. The Basic plan costs INR 499/month with 480p resolution, but with support to watch on a phone, tablet, computer, and TV. The INR 649 standard plan has bumped up the quality to 1080p with the same features as the basic plan. And finally, the INR 799/month premium plan can fetch you 4K resolution quality with the same features as Basic and Standard plans.
Netflix faces tough competition with other OTT platforms in India, such as Amazon Prime Video, Disney+ Hotstar, Voot, Zee5, and Eros Now, which charge lower subscription rates than Netflix. However, it is among the Top 10 OTT platforms in India because of the remarkable quality of the content it provides.
Netflix is also one of the best OTT platforms for Anime.
Top Popular Movies and Shows on Netflix
Friends
Money Heist
Breaking Bad
Dark
Sacred Games
Jamtara
Lust Stories
4. MX Player
Developed by MX Media & Entertainment, MX Player is an Indian video streaming and video-on-demand platform. The OTT platform has over 280 million users globally and currently operates on an ad-supported model, and has a streaming library of over 150,000 hours across 12 different languages, including Hindi, English, and Tamil.
MX Player is available on all platforms – iOS, Android, and the web. Furthermore, the online Feature of MXPlayer is available free of cost for the users to explore.
MX Player has licensed content from various International and Indian studios, including FilmRise, Sonar Entertainment, Goldmine, Shemaroo, Screen Media Films, Hungama, Paramount Pictures, and Sony Entertainment.
In 2018, Times Internet acquired a majority stake in MX Player for $140 million. On 20 February 2019, MX Player was relaunched as an OTT platform with original programming. In July 2020, MX Player also launched the short video app MX TakaTak.
Top 10 Famous Shows on MX Player
Indori Ishq
Aashram
Thinkistan
High
Hey Prabhu
Mastram
Bhaukaal
Hello Mini
Samantar
Ek The Begum
5. JioCinema: Movies TV Originals
JioCinema is an Indian OTT platform offered by Reliance Jio. The OTT service was launched on September 5th, 2016. It is an exclusive platform for all Jio users and is being provided without any additional charges. Moreover, it is bundled with almost all of Jio's postpaid and prepaid plans.
The streaming services publish TV shows, Documentaries, Movies, and Jio Exclusives. The JioCinema app supports both web and mobile device platforms. This app makes it the Top 10 OTT platforms in India because of its partnerships. Like with Disney in the past, to provide some of its premium content on its own JioCinema platform.
JioCinema is free to download app for Android and iOS, and as mentioned, the service is available with Jio Plans. So you can recharge for INR 149 for a month to get access to JioCinema.
Top Famous Shows on Jio Cinema
Twisted 3
Ramprasad ki Tehrvi
Khena ko Humsafar Hai
Flesh
Unkahee
7 kadam
Mr Das
6. ZEE5: Movies, TV Shows, Web Series, News
ZEE5 is an Indian subscription video on demand and over-the-top streaming service run by Essel Group via its subsidiary Zee Entertainment Enterprises. It was launched on 14 February 2018 in India with content in 12 languages. The ZEE5 mobile app is available on Android, iOS, website, Smart TVs, etc. It is also available for free on Airtel Xstream (a streaming service of Bharti Airtel) and Vodafone Play (a streaming service of Vodafone Idea)
ZEE5 recently announced the launch of the 'ZEE5 Club' at INR 365/year. ZEE5 Club will enable its consumers to have exclusive access to the most popular shows before telecast on TV. Apart from access to select ZEE5 and Alt Balaji shows, – 1,000+ films, ZEE Zindagi shows, and over 90+ Live TV channels.
With ZEE5 Club, subscribers will enjoy entertainment content without any disturbing ads and across devices. Some of Zee's popular TV shows like Kumkum Bhagya and Kundali Bhagya in Hindi, Jothe Jotheyali in Kannada, Sembaruthi in Tamil, and Mazya Navryachi Bayko in Marathi, and many more would be now available on ZEE5 Club before telecast on Television.
As of now, the ZEE5 12 months plan costs INR 499 as a limited period offer. Otherwise, the plan costs INR 999. With the yearly plan, you can watch on three screens at a time. With the INR 299 plan, you get to watch on two screens at a time for a validity of three months.
7. Sony Liv
Sony Liv (formerly as SonyLIV and marketed as SONY LIV) is an Indian general entertainment, video-on-demand service, and freemium streaming platform owned by Sony Pictures Networks India. It was introduced in 2013 as the first OTT platform in India. It carries content from its local networks, including movies, television series, live sports matches, and features content licensed from third parties in India.
Sony Liv's Library comprises 18 years of content from the Sony Entertainment Network channels in India: Sony TV, Sony SAB, Sony Max, Sony Ten, Sony PIX, Sony MAX 2, and Sony Six.
Sony LIV Premium subscription costs you INR 299/month, INR 699 for six months, and INR 999/year. The LIV Special subscription costs INR 199 a year, while the LIV Special+ costs INR 399 for 12 months. And finally, the WWE network subscription costs INR 299/year. Sony Liv is featured in our list of Top 10 OTT platforms in India because of the exclusive content related to sony TV, and it has bagged telecast rights for a couple of sporting events.
Popular Movies and TV Shows on Sony Liv
This application offers popular TV shows like
Tarak Maheta Ka Ulta Chasma
The Kapil Sharma Show
8. ALTBalaji – Comedy, Thriller, Drama & Romantic Shows
ALTBalaji is an Indian content-based video-on-demand platform, an owned subsidiary of Balaji Telefilms Ltd. It is available across 32 different interfaces for its audiences. The content has been made available on mobile phone and tablet devices (Apple TV, iPhone, iPad, Android smartphones and tablets), web browser (desktop browser), Android TV, Google Chromecast, Amazon Fire TV, Roku, and Windows PC.
ALTBalaji website claims the platform to be the largest content bank seen in India. The stories range from comedy, drama, and romance to thriller, mystery, and crime. The content bank also consists of 100+ hours of content for kids and urban regional shows in Hindi, Bengali, Punjabi, Marathi, Tamil & many more languages.
Launched on 16 April 2017, ALTBalaji creates original OTT content and has around 34 million paid users. You have an option of three ALTBalaji membership plans – 3 months for INR 100, 6 months for INR 180, or 12 months for INR 300.
Public Movies and TV Shows on ALTBalaji
They have original content in multiple genres like drama, romance, crime, thriller, and much more, which is available in multiple Indian languages. Some popular content on ALTBalaji are:
Karrle Tu Bhi Mohabbat
Romil & Jugal
Boygiri
Dil Hi To Hai
It Happened In Calcutta and much more.
9. Voot – Watch Free Online TV Shows, Movies, Kids' Shows
Voot is an Indian subscription video on demand (SVOD) and over-the-top streaming service owned by Viacom18. Launched in March 2016, Voot is Viacom 18's advertising-led video-on-demand platform available as an app for iOS devices, KaiOS (JioPhone), and Android users, and a website for desktop PC users.
At present, Voot is available only in India and hosts over 40,000 hours of video content that includes shows from channels like Nickelodeon, MTV, and Colors. The content is also available in several languages like Bengali, Telugu, Kannada, Marathi, Gujarati, and Tamil.
Voot also hosts many Bollywood movies for streaming and has produced several 'Voot Original' shows. In February 2020, Voot introduced paid subscription service called Voot Select. As a result, Voot Original series are made available only to paid subscribers.
In addition, some TV shows are being streamed a day before TV for their paid subscribers. Voot Select will cost you INR 299 for a year as a part of an ongoing offer. Otherwise, the membership costs INR 999 for a year. There's no monthly plan as of now.
Public Movies and TV Shows on Voot
Colors TV serial episodes live
Unseen footage of popular show Biggboss
Cartoons, and much more.
10. Eros Now – Movies, Originals, Music & TV Shows
Eros Now is an Indian subscription-based over top, video-on-demand entertainment and media platform owned and controlled by Eros Digital. The digital platform is accessible on most Internet-connected screens, including mobile, tablets, web, and TV. It has 128 million registered users and 30 million paying subscribers globally.
Also, Eros Now, the on-demand platform, has a collection of international shows aired on Hum TV and ARY TV. The digital platform has over 12,000 digital titles, including movies, TV shows, music videos, and 2,50,000+ music tracks. It has around 18 million subscribers on YouTube, and it is one of the top 100 most subscribed YouTube channels in India.
Eros Now's business model is subscription-based with three types of streaming membership plans. The subscription cost of the Eros Now Premium subscription service is INR 49 per month for the basic plan, which includes access to standard definition quality streaming without functionality. The plus plan costs INR 99 for three months, allowing unlimited access and functionality of streaming, including access to HD quality and offline download features. And the premium plan costs INR 399 for a year for a single device.
Popular Movies and TV Shows on Eros Now
A Viral Wedding,
Operation Cobra
Smoke
Metro Park
Date Gone Wrong
Flesh
Flip
Modi, and a few more.
Best OTT Platforms in India Subscription Plans & Pricing
Read the list of Top OTT Platforms in India with their premium prices.
Best OTT Platforms
Subscription Plans
Netflix
Mobile: ₹199
Basic: ₹499
Standard: ₹649
Premium: ₹799
Amazon Prime Video
Monthly: ₹129
Yearly: ₹999
Disney+ Hotstar
VIP: ₹399 (Yearly)
Premium: ₹1499 (Yearly)
Premium: ₹299 (Monthly)
ZEE5
Monthly: ₹99
3 Months: ₹299
Yearly: ₹499
Sony Liv
LIV Premium
Monthly: ₹299
6 Months: ₹699
Yearly: ₹999LIV Special+
With Ads: ₹199
No Ads: ₹399WWE Network
Yearly: ₹299
Voot
Monthly: ₹99
Yearly: ₹399
ALTBalaji
3 Months: ₹100
6 Months: ₹180
12 Months: 300
MX Player
FREE
JioCinema
FREE
YouTube Premium
Monthly: ₹139
3 Months: ₹399
Hoichoi
Yearly: ₹599
Yearly: ₹899
Addatimes
Yearly: ₹399
Yearly: ₹599
Top 10 OTT Platforms in World
Check the below infographic to see the top 10 OTT platforms in the world.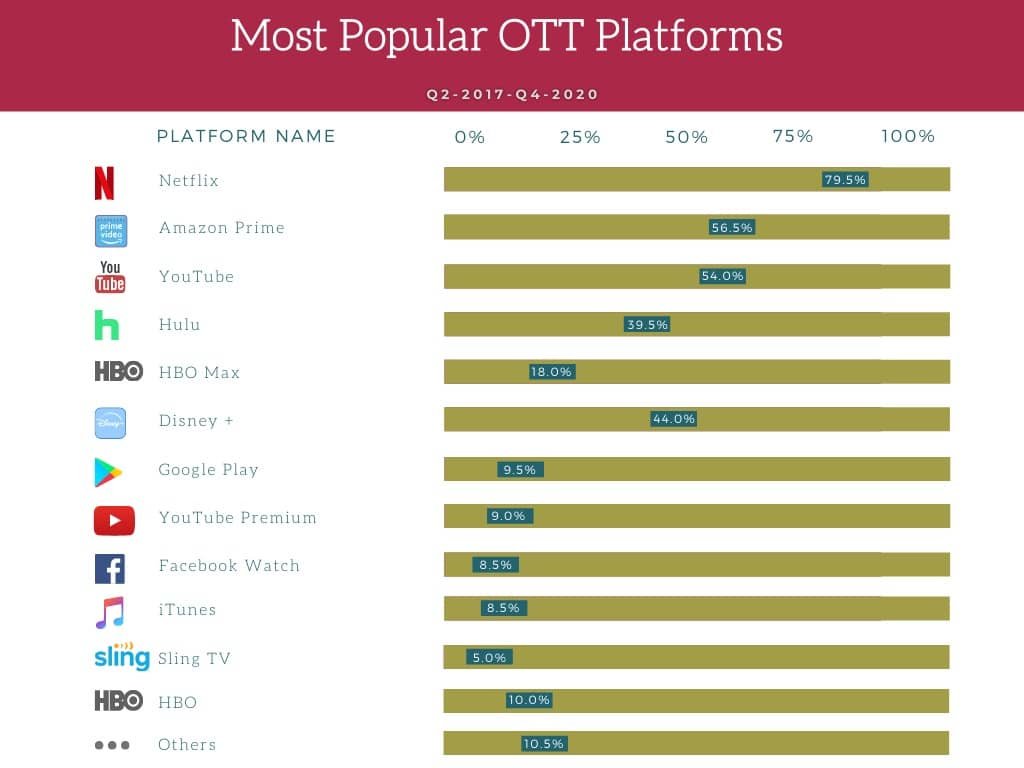 What are the free OTT platforms in India
Following is the list of some of the free OTT platforms in India which offer the best entertaining content from the leading producers and publishers.
List of Free OTT Platforms in India [Best Pick]
MX Player
JioCinema
Airtel Xstream
Vodafone Play
Voot
Sony Liv
YouTube
We have rounded up a list of the best free web streaming platforms in India. Check out the list and choose your free online TV/movie streaming apps in India to revamp your entertainment experience.
Best 10 Regional OTT Platforms in India
Below are the top 10 regional OTT platforms in India:
Hoichoi
SUN NXT
Aha
Koode
Planet Marathi
Asianet Mobile TV+
Big Flix
Addatimes
Hungama
Manorama Max
How To Watch Netflix, Disney+ Hotstar, Amazon Prime Video Premium OTT Platform Content For Free?
Following are the easy way to watch Netflix, Amazon Prime Video, Disney+ Hotstar premium content for free of cost in high-resolution. The way to watch the content on some of the OTT platforms for free is via mobile recharges.
Telecom companies like Vodafone Idea (Vi), Bharti Airtel, Reliance Jio, and BSNL bundle access to the list of OTT players in India with their recharge plans for free.
Watch OTT Premium Content For Free Using Mobile Recharge
Reliance Jio – Jio provides Netflix, Amazon Prime Video, Disney+Hotstar VIP, and Jio Cinema access bundled with prepaid and postpaid plans.
Bharti Airtel – With postpaid plans like Rs 499, Rs 999, and Rs 1599, Airtel provides a 1-year subscription for Amazon Prime, and Disney+ Hotstar VIP.
Vodafone Idea – Similarly, Vi also provides a 1-year Amazon Prime, Disney+Hotstar VIP, Netflix, Zee5 subscription on selected plans
BSNL – BSNL provides EROS NOW subscriptions with INR 78, INR 98, INR 298, INR 333, and INR 444 prepaid plans.
Conclusion – Top 10 OTT Platforms in India
There are a few more popular OTT platforms in India like TVF Play, Viu, Shemaroo, YouTube Premium, and many more. I hope you enjoyed our list of the top 10 OTT platforms in India. Do let me know what's your take on this list and which over-the-top media service platforms do you use the most in the comments below.
FAQ: Frequently Asked Questions
Which is the best OTT platform to watch live cricket and sports?
Disney+ Hotstar and Sony LIV are your best OTT platforms to watch live IPL cricket matches. They also provide live streaming of other sports like soccer/football, tennis, etc.
Which is the best OTT platform for English/Hollywood movies?
Netflix and Disney+ Hotstar are the best OTT platforms to watch English/Hollywood movies. They have a wide variety. Also, the latest movies and TV series are released here first.
Which is the best OTT platform for Children?
VOOT Kids and YouTube Kids are the best OTT platforms for kids. They have a vast collection that kids would love.
Which is the best OTT platform for Documentaries?
Discovery+ is the best OTT platform for watching documentaries. They cover documentaries on nature, history, sports, etc.
Which is the most expensive OTT platform?
Netflix is the most expensive, but the quality of content is also the best.
Which is the cheapest OTT platform?
YouTube is free but with advertisements. In paid subscriptions, Zee 5 has the cheapest subscription plans.
How do OTT Platforms Earn Money?
Firstly, OTT platforms invest money in producing unique content or purchasing from or buying movies and series from the owners. Then, they make money from the subscribers registered for various plans.
How can I watch web series for free?
There are few OTT Apps that provide free access to stream content. You can use these apps to watch the latest web series and movies for free. In India, MX Player and youtube provide free content. In these apps, you can get most of the web series for free.
Which Telecom Operator Offers the Most OTT App Subscription?
In the queue of OTT app subscriptions, the Jio app is in the top position. This application provides a complete subscription that includes more than 15 OTT platforms like Netflix, Hotstar, Zee5, Voot, Amazon Prime Video, SonyLiv, etc. Besides, Airtel and Vi are the other telecom operators that offer OTT platforms in the subscription.
Which OTT apps offer live cricket streaming in India?
Live cricket streaming such as IPL is mostly on Disney+ Hotstar and Sony LIV. The platforms also provide live coverage of other sporting events such as football, tennis, badminton, Olympics, and more.