How To Mine Ravencoin (RVN): A Beginners Guide On Ravencoin Mining
Ravencoin (RVN) is a Bitcoin fork that enables the issuance of tokens. One question often comes to mind with those new to mining a certain project; that question is how to mine ravencoin? Mining crypto has never been so easy. Even as a new miner, ravencoin is one of the earliest crypto assets that you can start mining today using your GPU.
If you want to grow your crypto holdings and generate passive income using your device's GPU, follow the below guide on how to mine ravencoin, and you can start earning RVN quickly.
What is Ravencoin (RVN)?
Launched on January 3, 2018, Ravencoin (RVN) is an open-source project built upon what we call a fork of the Bitcoin code that almost instant transactions between holders. Built on a fork of the Bitcoin code, the project uses the UTXO (Unspent Transaction Output) system.
Ravencoin depends on the proof-of-work (PoW) consensus mechanism and the KaWPoW algorithm. The purpose of Ravencoin is to allow users to create and transfer assets efficiently. Ravencoin is an alternative to other blockchains that support digital assets, such as Ethereum. 
According to the official whitepaper, Ravencoin gets its name from the Game of Thrones world of Westeros, where ravens are "messengers that carry statements of truth."
Ravencoin's Unique Consensus Algorithm
Ravencoin functions are quite similar to bitcoin. However, the major difference is the algorithm that allows ravencoin mining from intermediate computers. Just like Bitcoin, Ravencoin uses a PoW consensus to secure the network. Unlike Bitcoin's SHA-256 algorithm, Ravencoin uses a unique hashing algorithm called KaWPoW.
The network upgraded its mining algorithm twice. The first time, it forked from X16R to the X16Rv2 algorithm on October 1, 2019. A second update was from X16Rv2 to the KaWPoW algorithm. The algorithm updates were crucial to prevent x16R ASICs and FPGAs from mining ravencoin.
The KaWPoW algorithm is specially created not to allow ravencoin mining using ASICs equipment. The algorithm's objective is to permit more miners on the network and, thus, keep it decentralized.
Why X16R?
The Ravencoin mining algorithm prevents specialized hardware such as ASICs from mining RVN. This kind of costly industrial equipment makes bitcoin mining more profitable, making the mining process less accessible to the average person.
The Ravencoin blockchain requires miners to solve computational puzzles that most hardware can solve. The blockchain assures that the puzzles don't increase too fast or that it eliminates possible miners from the process.
Developing a special mining algorithm isn't new, and it promotes decentralization. Other networks also do the same, including Monero and Litecoin.
But X16R is the first version of the mining algorithm on Ravencoin, and it doesn't serve its purpose anymore, to make the ravencoin mining ASICs resistant. That's why the mining algorithm was updated to X16Rv2 and then to KaWPoW.
The KaWPoW is the third Ravencoin mining algorithm, and it is a slight variation of the X16R. Ravencoin can be mined with AMD and NVIDIA graphic cards.
Also Read | Best GPU For Mining Ethereum – Buyer's Guide
Ravencoin Tokenomics
Like bitcoin, ravencoin (RVN) has a limited supply of 21 million coins. The project did not launch using a pre-mine event or an ICO.
The Ravencoin network is powered by its native token, RVN, which pays for the platform's transaction fees. It also acts as a reward for the network's validators. Similar to Ethereum's ERC-20 tokens, Ravencoin assets can be used in multiple ways.
A new Ravencoin block is created every minute, and presently, the reward for a block is 5,000 RVN. The next halving is set to happen in January 2022, when the reward for each block will be 2,500 RVN. You can find the Ravencoin halving countdown here.
What is Ravencoin Used For?
Ravencoin can issue tokens to represent real-life assets. For example, RVN tokens can represent virtual goods, shares, gold, and other types of assets.
In 2018, Chainstone Labs issued 12.4 million digital shares using the Ravencoin blockchain. Users can also issue NFTs (Non-fungible Tokens) on Ravencoin using the MangoFarmAssets RVN wallet platform.
Investors can also use the Binance Smart Chain (BSC) tokenized version of RVN to borrow, lend, and trade in decentralized applications (DeFi).
The infrastructure of Ravencoin is ideal for companies and others that need to launch and trade digital tokens. However, the platform cannot create smart contracts.
Ravencoin Wallets
Choosing a ravencoin wallet is crucial before learning how to mine ravencoin. You will need a wallet to receive the rewards from ravencoin mining. Several wallets exist, including the official ravencoin wallet, available for Windows, Mac, and Linux.
Other popular Ravencoin wallet options include:
Edge
Exodus
Mango Farm Wallet (supports assets)
Trust wallet and more
You can find all the official wallets for Ravencoin here.
Ravencoin can also be stored on cryptocurrency exchanges, although it is not a recommended option. You can use the Ravencoin wallet on exchanges such as OKEx, Binance, and UpBit.
It would help if you did your research before selecting the best ravencoin wallet.
How To Mine Ravencoin (RVN)
It's time to start mining ravencoin. This guide will cover all the necessary steps to teach you how to mine ravencoin (RVN). Following are some of the main steps you need to go through to start ravencoin mining on your computer or machine:
Get a ravencoin wallet to receive a mining reward.
Download and install a ravencoin mining software compatible with the KawPoW mining algorithm.
Start a mining pool.
Note: You will need a GPU with at least 4GB of RAM. 
Step 1: Setup Ravencoin Wallet Address
As with most crypto mining processes, you will need an RVN wallet address to send the rewards received from ravencoin mining. You can select any of the supported RVN wallets or an exchange wallet, but we suggest the official ravencoin wallet, Raven Core. Here, we'll be using the Windows version.
As you download the wallet software, you will receive a notification from the OS warning that will block the application because it can harm your device. This happens with most crypto applications. You will need to choose "Keep" from the "Options" menu of the downloaded files.
It's important to download the crypto wallets and mining software from trusted sources, to minimize the risk of infecting your device with malware.
Another tip is to keep all mining applications on a different network than your day-to-day data. It's recommended not to use a device with any financial information or the one you use for online shopping.
After you download the software, install Raven Core on your device. You will need to set up a new wallet. Make sure to write down the seed phrase to recover your wallet later if something happens to your device.
After you've created the wallet, it should look something like this.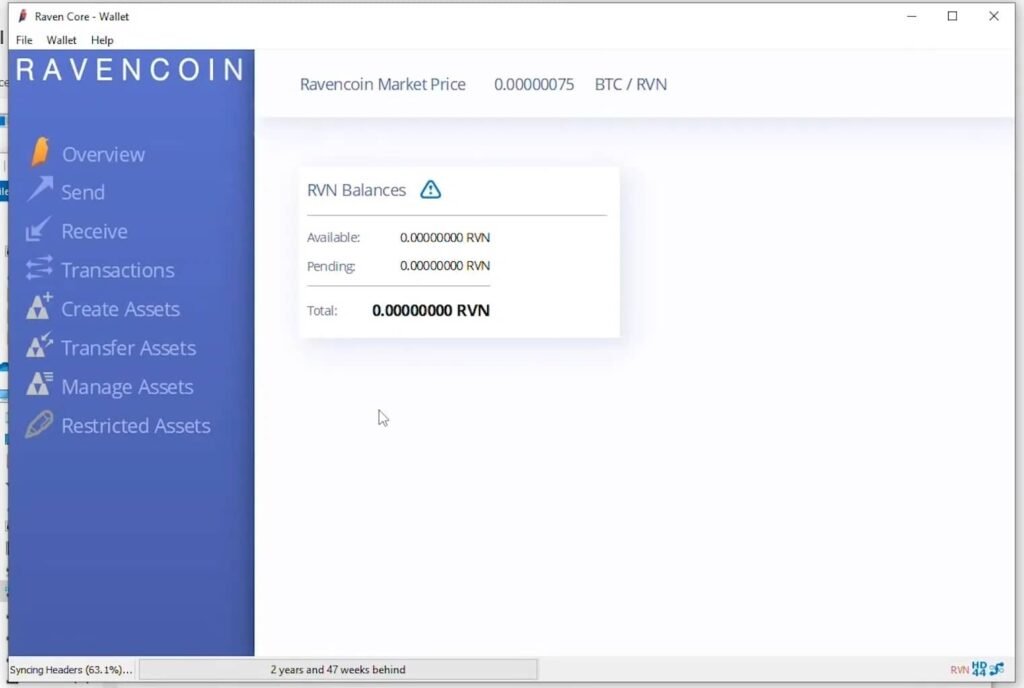 Wait for the Raven Core wallet to synchronize with the blockchain.
You will need to get the receiving address for RVN. Go to Receive > Request Payment > Copy Address. Here you have the wallet's recipient address. 
Optionally, you can add a label to this address to know that these rewards come from ravencoin mining.
Step 2: Install Ravencoin Mining Software
You need to download and install ravencoin mining software on your device.
Note that your OS might be triggered by the mining software, claiming it to be malware. If you're using Windows OS on your device, you will need to add an exception in Windows Security.
Go to Windows Security > Virus & Threat Protection > Virus & Threat Protection Settings > Manage Setting > Exclusions.
You need to add the exclusion for the entire folder where you unzipped the software. Click on "Add or Remove exclusions." And then "Add an exclusion." Select "Folder" and search for the location of the ravencoin mining software.
Here is the mining software you can use for ravencoin mining:
Kawpowminer

(open-source, for Nvidia cards)
Gminer (2% developer fee for Nvidia cards)
T-Rex Miner (1% developer fee, Nvidia cards)
TeamRedMiner (2% developer fee, command-line software, AMD cards)
NBMiner (2% developer fee, Nvidia/AMD cards)
Nanominer (1% developer fee, Nvidia/AMD cards)
We will use NBMiner, an efficient ravencoin mining software for both Nvidia and AMD GPUs. Download the appropriate version of the latest NBMiner version.
Step 3. Choose A Ravencoin Mining Pool
You can select any available mining pool. You can find most of the pools on miningpoolstats.stream/ravencoin.
To maintain decentralization, no pool must have too much control over the network. If a mining pool has over 50% hashing power, it can be dangerous for the network. 
You will need to select one mining pool and click on it. It will take you to its website, where you will find all the details about the pool, including the mining pool's address, which you'll need later to configure the mining software.
Additionally, you can find the mining pools that support ravencoin here.
Step 4. Configure The Ravencoin Mining Software
Download and unzip the files on your computer. Inside the folder, go to NBMiner_Win > start_rvn.bat. Right-click on start_rvn.bat the file to edit it.
It should look like this.
Inside start_rvn.bat, you will add your ravencoin wallet address (the address you got in step 1). You can replace "default" with the name of your mining GPU.
Before the wallet address, you have another one, which is the mining pool's address. You have already chosen a mining pool at step 3. Copy the mining pool's address in the file.
The text in the file should look something like this:
nbminer -a kawpow -o stratum+tcp://rvn.2miners.com:6060 -u YOUR_WALLET_ADDRESS.RIG_ID
Save the sart_rvn.bat file and close it.
Step 5. Start Mining Ravencoin (RVN)
To start mining ravencoin, double-click on the start_rvn.bat file. It should look like this. 
You can see your effective hash rate here.
You can soon check your mining pool website to see if your miner is properly working. Note that each pool has a minimum amount for payout, so it might take a while to see any rewards in your wallet.
As with other PoW cryptos, you must determine how profitable mining crypto is to your specific location and device. Each piece of equipment has a different hash rate and power consumption, and the cost of electricity should be considered.
You can use this ravencoin mining calculator to determine if ravencoin mining is a profitable business for you.
And this is all there is to it! You now know how to mine ravencoin.
Mining Ravencoin is Easy With X16R Algorithm
You are now ready to mine ravencoin (RVN). The steps in this guide take you on how to mine Ravencoin, and it couldn't be simpler. Ravencoin mining is made open to all individuals and crypto enthusiasts. Gamers who already own powerful GPUs might find that mining crypto can be a side hustle that generates passive income.
The price of ravencoin (RVN) may increase in the future, resulting in an increase in your holdings as an RVN miner. However, it's always noteworthy to keep an eye on the market and the price of maintaining the hardware and electricity costs to make sure ravencoin mining is still profitable.
Frequently Asked Questions (FAQ)
Is ravencoin worth mining?
Mining ravencoin is a process available to anyone who owns a GPU card, and it can still be profitable. However, some graphics cards have a higher hashing power, and electricity costs should be taken into consideration.
Miners can check the ravencoin mining calculator to determine if it is a profitable business.
Can I mine ravencoin with GPU?
You can mine ravencoin if you have 4+ GB RAM GPUs.
Can ravencoin be mined?
Ravencoin is a fork from the Bitcoin code and uses a proof-of-work (PoW) consensus. As such, the Ravencoin blockchain relies on miners to validate transactions and generate new blocks on the network.
How do you mine ravencoin?
You can mine the RVN token using your device's GPU. Most ravencoin mining software is designed for Nvidia and AMD graphic cards.
To start mining RVN, you need a wallet address to receive the rewards, choose a mining pool and install the corresponding mining software for your hardware.
How long does it take to mine 1 Ravencoin?
According to a Ravencoin Mining Calculator, it will take you an average of 0.016 days to mine 1 Ravencoin.
What is the best Ravencoin mining pool?
When it comes to the best Ravencoin mining pools, For2Pool takes a special place in the list. It is easy to use thanks to its intuitive interface, it is very quick, and the user database is impressive. The payout lower limit is 100 RVN which is comfortable for users who aren`t looking for fast payouts.
Where do you store Ravencoin?
Top 5 Ravencoin wallets
1. Official RVN wallet for desktop.
2. Official RVN wallet for mobile.
3. Trust Wallet.
4. Trezor.
5. Pocket Raven.
---
Disclaimer: All the information contained on our website is published in good faith and for general information purposes only. Any action the reader takes upon the information found on our website is strictly at their own risk.