Best Smartphones for Mobile Gaming
If you are serious about getting the best gaming experience on your mobile phone, the smartphone that you choose will make all the difference. The best gaming phones are often comparable to tablets and in some cases, might be just as good as some of the most popular portable console options in terms of performance and gameplay quality. If you love gaming on your mobile phone, then it's definitely worth investing in one of these phones.
Choosing a phone that is mainly used for gaming will be a little different compared to choosing a regular smartphone. Ideally, the best gaming phone is going to have a large, high-resolution screen, lots of power, a decent battery life, and a high refresh rate.
What to Consider When Choosing a Gaming Phone
Choosing a smartphone can often be a confusing experience with so many options out there and getting a smartphone suited to gaming can be even trickier. Gaming smartphones offer a better gaming experience and more focus on the things that matter most to gamers such as storage and processing power. The main things to look out for when choosing a gaming smartphone include:
Internal Components
The internal components such as the processor are some of the most important factors when you are looking for a new gaming phone. No matter what kind of mobile games you like playing most, a fast and high-performance phone is key. A Snapdragon 800 processor is the best minimum option when choosing your phone, along with at least 8GB RAM.
Read | Qualcomm Snapdragon vs MediaTek – Which is Better?
Battery Life
The more you use your smartphone for playing mobile games, the more power it will use. This is why battery capacity is another very important factor to consider when choosing a new gaming handset. Ideally, you should look for a phone with at least a 4500mAh battery.
Cooling
Smartphones are bound to get warm when you're running games a lot, so lookout for a handset with good cooling mechanisms designed to protect the heat from impacting the processor performance.
Screen Resolution
Finally, if you want your games to look good along with being fun to play, go for a higher resolution screen. Most modern gaming phones come with either 90Hz or 120Hz support.
If you enjoy playing games on your mobile phone, then it makes sense to invest in a gaming handset for your next smartphone.
4 Best Smartphones for Mobile Gaming in 2022
The Apple iPhone 13 Pro Max and Samsung Galaxy S21 Ultra are two mainstream smartphone options that tick all the right boxes for gamers, however, you might want to look into dedicated gaming smartphones that have even more feature included with gaming in mind. Some of the best phones for gaming in 2022 include:
1. Asus ROG Phone 5
If you want the best experience when playing all your favourite games on your phone from first-player shooters to your favourite casino games, the Asus ROG Phone 5 is a great choice. You can easily use it to look up the best online casino sites and apps from Online Casinos, a comparison site where you can find out more about the best casino games, deals, new player bonuses, performance, and more.
Once you have found the games you want to play, this remarkable gaming phone offers a range of impressive features. These include leading power from the Snapdragon 888 chipset along with 16GB of RAM, a touch sampling rate of 300Hz, and a high refresh rate of 144Hz, both of which are ideal for gaming and higher than most standard phones.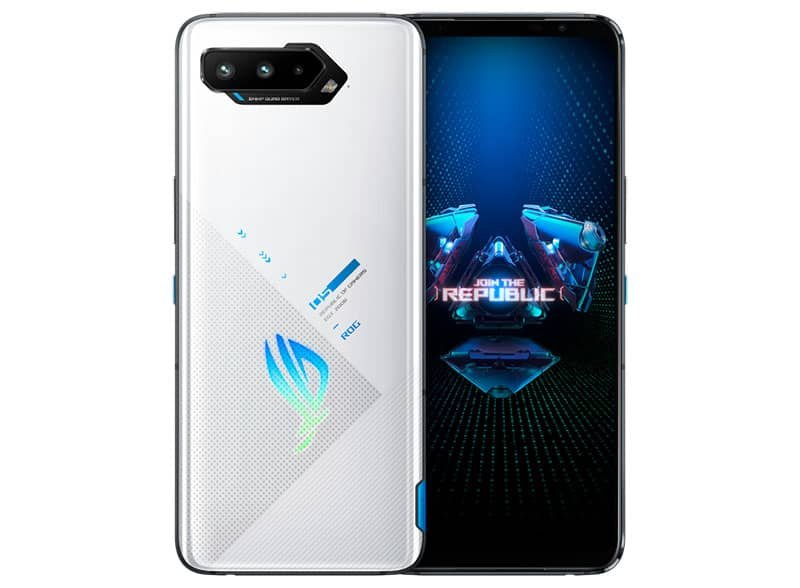 It has a large screen with dual, front-facing features that are some of the best you will find on a smartphone. The massive 6,000 mAh battery allows you to game for longer, paired with 65W fast charging to keep you going even if you do run the battery down.
Programmable RGB lights, responsive shoulder buttons, and compatibility with a wide range of gaming accessories make this phone one of the best options for gamers.
2. Lenovo Legion Phone Duel
Lenovo's first gaming-specific phone, Lenovo Legion Phone Duel offers a range of gaming features with plenty of other great features and specs. It has a pop-up camera to ensure that the screen remains unbroke and supports 90W fast charging to make sure that you always have power.
The software is optimized for use in landscape mode, and it has a top processor, which makes it an ideal choice for gaming. It's definitely up there as one of the best gaming phones on the market, but it's also ideal for somebody who is looking for a good smartphone that also lends itself well to playing games.
3. Black Shark 3
If you want a gaming smartphone that is paired with an excellent camera, the Black Shark 3 is definitely worth considering. This big, bold phone with LED lights is the best gaming phone offered by the Xiaomi sub-brand and offers specs that you would expect from a top-end gaming phone.
But it's not just focused on gaming; smartphone photographers will also enjoy this phone with its surprisingly effective camera that works well in low-light settings. However, this phone does not have as many dedicated gaming features compared to others and also has a lower refresh rate at 90Hz.
4. Nubia Red Magic 5G
If you are looking for a phone that you can use to play games over a 5G connection for an even faster experience, the Nubia Red Magic 5G is a great option to consider. This smartphone has the first 144Hz smartphone screen in the world, which makes it an ideal choice for gaming with a seriously smooth refresh rate and a vibrant, bright display to make your games even more enjoyable.
This phone has been specifically designed with gaming in mind and offers a range of features designed for gamers such as shoulder triggers for increased control, a liquid cooling system and fan that keeps the handset cool even after prolonged use, a '4D Shock' feature that adds vibration to certain games, and the option to customize your gaming experience.
Conclusion
That's everything you need to know about the best smartphones for mobile gaming for now. We'll be updating this list periodically, especially as even more brands are entering the foray with phones that are especially well suited to gaming.