Top 5 Best Online Therapy Websites You Must Know
These days almost every service is available online. Even medical and therapy services are also available on the internet. There are quite a lot of apps and websites available out there which allow you to take a quick online therapy session with the best doctors.
However, there are quite a lot of people who are a little skeptical before trying these online therapy services. If the same goes for you, then I am going to mention the 5 best online therapy websites which will help you to get the required help pretty easily.
So let's just head into the topic without wasting much the time:
5 Best Online Therapy Websites [Online Counseling]
BetterHelp
TalkSpace
TeenCounseling.com
7 Cups
Doctor on Demand
1. BetterHelp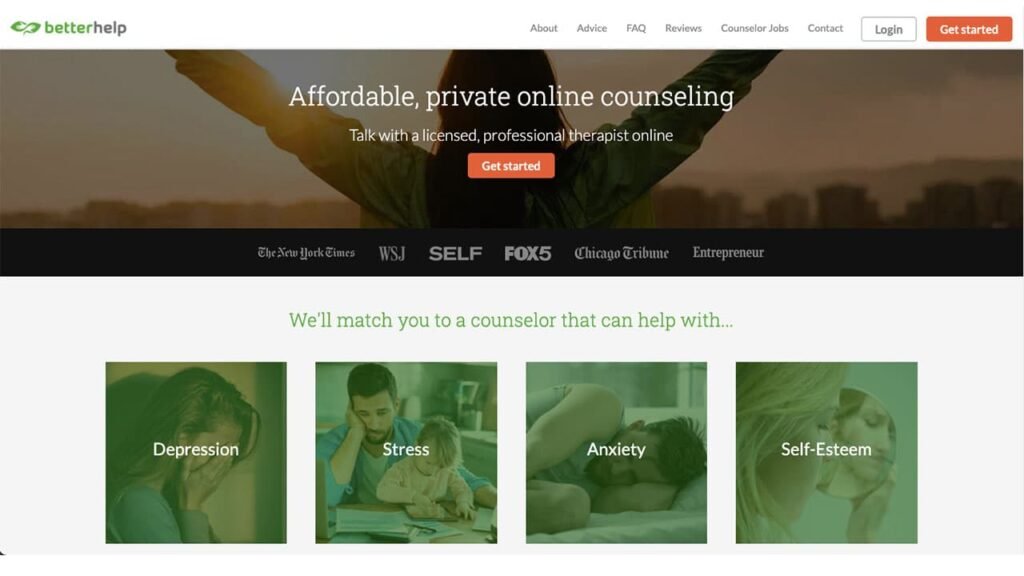 First of all, I have BetterHelp. This is one of the best websites when it comes to taking online therapy services. They offer therapy services for individuals, couples, and teens.
The best part of the website is that it is run by licensed therapists who are ready to help you out with your problem. And you can get consulted by them through messages, chat, phone, and video sessions.
You can also message your therapist anytime from anywhere. And there is absolutely no scheduling needed. Also, you can schedule a live session at any time that is convenient to you.
2. Talkspace
Talkspace is yet another popular online therapy website that you can check out. Getting help from this website is also absolutely straightforward. You have to answer a few questions about your preferences and then choose a therapist and start with your therapy sessions.
The website also offers you 24/7 access so you can get help whenever you want. Also, you can easily eliminate commute time and scheduling hassles. Plus, it offers you flexible pans that meet your needs and lifestyles. Also, you can switch your therapist pretty easily.
3. TeenCounseling.com
Up next, I have TeenCounseling.com. This website is said to have more than 6000 professional and licensed therapists that can help you out. It offers you professional counseling by text, phone, and video.
Also, getting started with the website is pretty simple. You will need to answer a few questions and find the most suitable therapist for your needs.
However, the website is only dedicated to teens. So if you are a parent, you can get help for your kids. Or if you are a teen, it allows you to get service for yourself only.
4. 7 Cups
For my next pick, I have 7 Cups. This one is also one of the best online therapy websites that you can check out.
The site has more than 180 professional therapists and over 300,000 trained listeners. The website lets you talk to anyone who would listen to you.
Plus, the best part of the website is that it is completely anonymous and completely free to use. Also, you will be able to find support and friendship in different chat rooms and forums for different issues, such as depression, anxiety, relationships, and so on.
5. Doctor on Demand
In the end, you can check out Doctor on Demand. Through this website, you will be able to get 24/7 access to doctors, psychiatrists, psychologists, therapists, and other medical experts.
Moreover, the website also lets you connect with trusted therapists. Also, you can find the right therapist for yourself by taking a quick assessment. Moreover, you can browse through different therapists and schedule your video visit.
Read | 10 Best Fitness Trackers For Kids and Teenagers
Conclusion:
So those were some of the best online therapy websites that you can check out. Now it is your call to go ahead and check these websites out and see which one is working the best for you.
Frequently Asked Questions (FAQs)
Are online therapists legit?
Not all "online therapists" are legit. To be safe, make sure your therapist has licensed in your states, such as a licensed marriage and family therapist or licensed clinical social worker. The best online therapy services will also have psychiatrists and/or psychologists available.
Is online therapy confidential?
Telehealth and teletherapy practices must adhere to the same codes of ethics, regulations (federal and state), and professional standards as in-person treatment. These responsibilities include maintaining the confidentiality and storing electronic patient records securely.
What kind of online therapy services accept insurance?
Not all telehealth services take insurance, but most of them do. Most insurance providers require a diagnosis for covering online therapy costs. So, marriage counseling, for example, would usually only be covered if one of the partners has been diagnosed with a mental health disorder. The specific coverage for online therapy sessions depends on factors such as your insurance plan, which therapist you choose, and where you live.