5 Best Online Streaming Devices for TV
Best Online Streaming Devices For Smart TVs. A couple of years ago CD players were the luxury item that most of us used to play our curated favorite soundtracks or watch a movie (which we couldn't get/had to wait for many months to watch on cable TV). But with the technology evolving dramatically, these CD players became the so-called 'new vinyl,' and those things that were mere concepts became a reality.
The bricked size cellphone that was meant for communication is now capable of performing several other functions (when it's connected to the Internet of course). But it's not just mobile phones, the large box that once displayed pixelated videos (simply to say the television) have become smarter too and now comes with Internet capabilities.
Some of the sleek designed Smart TVs not just have built-in Wi-Fi but come with social media apps and online subscription services. But similar to phones these TVs can only act smart when the system is connected to the internet.
While many prefer the traditional cable service (why should one miss the spicy soap operas) given the content on TV channels has improved, the caveat is when bad weather showers on the day when your favorite match is about to start and the signal is gone. What's more upsetting is that you can't schedule the program to watch it later.
Online streaming services come as a rescue as you get a wide range of content from sporting events to incredible nature docu-series. While many smart TVs bundle major apps, low res picture quality and sluggish performance render a rather bad experience. Well, a high-quality streaming device can certainly take you off this dejection.
Read | Best Free VPN Apps For Android and iOS
BEST ONLINE STREAMING DEVICES FOR TV
There are a host of streamers available in the market and in case you are planning to buy one but confused about which one to get, you should check this list of best online streaming devices for TV-
Amazon Fire TV Stick 4K
Google Chromecast 3rd Generation
Roku Streaming Stick+
Apple TV 4K
NVIDIA Shield TV
1. Amazon Fire TV Stick 4K
Amazon's Fire TV Stick 4K is one of the cheapest streaming sticks that won't break the bank unlike the Roku Streaming Stick Plus, or Apple TV 4K. The interface is simple and recently accessed apps or content can be found on the home screen.
Compared to the previous Fire TV Stick, the 4K version comes with a few improvements like support for HDR, HDR110+, Dolby Atmos, etc. Underneath it has an 802.11ac Wi-Fi chip and 1.7GHz quad-core processor to ensure stable streaming and faster downloads.
The Fire TV Stick 4K has voice assistant Alexa baked on the remote control. Also, the remote control has a power button and volume keys that were missing from the previous model. The remote control can be used to change the volume on the TV and soundbar as well.
If your smart TV isn't a 4K HDR one but has HDMI-CEC support, the Fire TV will work just fine. The Fire TV Stick 4K offers a wide range of channels and if you are an Amazon Prime subscriber it just adds a sweet candy on top. The Fire TV, however, doesn't support YouTube TV.
2. Google Chromecast 3rd Generation
Google Chromecast (3rd gen) is another budget-friendly streaming device that you can put on your purchase list. The Google streaming device features the improved WiFi 802.11ac antenna that is claimed to deliver a 15% boost in performance.
Setting up the Chromecast is a cakewalk- just plug in the device, download the Google Home app on your Android/iOS phone. The app once installed, tap 'add new device', pick the Chromecast from the list of devices for setup, assign a name, and a room to the Chromecast, and it is all set to stream.
The streaming device can stream content at 1080p and enables you to mirror your Android phone's screen on the TV. The Chromecast casting feature supports Google's set of apps- Google Play Movies, YouTube; also, the major streaming services like Netflix, Amazon Prime, Disney+ have a Cast button built-in as well.
As for audio and video codecs, the Chromecast 3 supports H.264 1080p, MPEG-4, VP8 video, MP3, Dolby Digital Plus, etc. The streaming device from Google is compatible with more than 800 apps including HBO Now, Hulu, Hotstar, Spotify, ESPN among others.
3. ROKU Streaming Stick+
Although the Roku platform doesn't provide service in some of the emerging countries, it is popular in the Western market. The Roku Streaming Stick+ is one of the best products from Roku that offer good WiFi reception (courtesy of the 802.11ac MIMO dual-band wireless support), and a 4K HDR video experience.
The simple interface enables you to search for content across all your subscriptions. Besides the major streaming services, the platform offers over 50,000+ movies, TV shows across more than 1,000 channels.
Another reason for the Roku Streaming Stick+ being popular is that it provides streaming content at 4K HDR for half a price than those high-end online streamers. Similar to the Fire TV Stick, Roku's remote control allows you to adjust your TV's volume and operate as a power button as well.
4. Apple TV 4K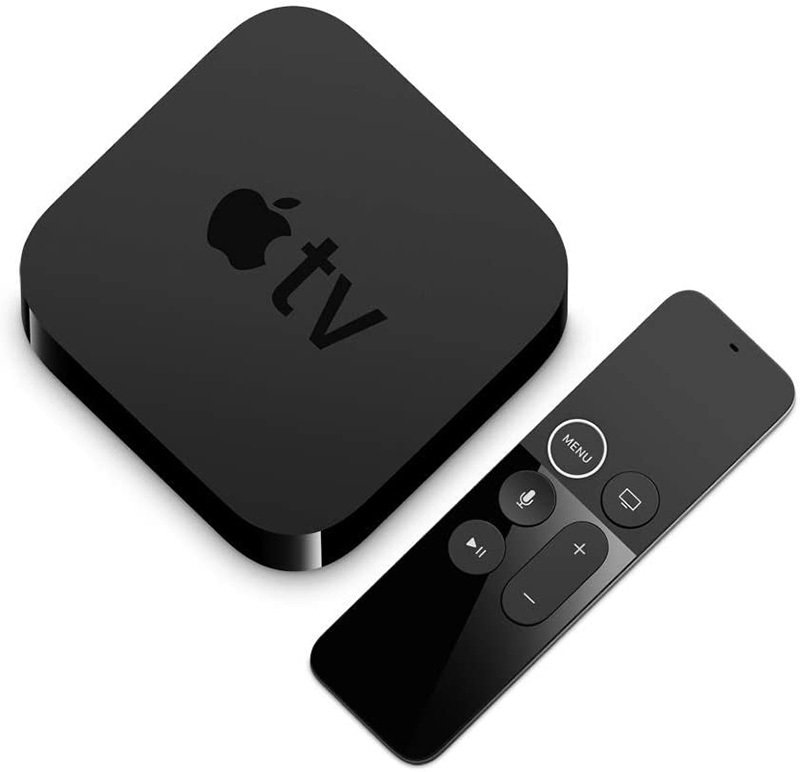 If you are more comfortable with Apple's ecosystem and don't mind spending a couple of extra bucks to devour on better viewing experience then Apple TV 4K would be the right choice for you. Besides offering high-res streaming picture quality, Apple TV 4K delivers a spatial audio experience with Dolby Digital surround sound. The Apple streaming box takes an edge over other streaming devices with its refined voice control features.
Alongside iTunes movies, songs, Apple TV 4K supports all the major streaming services. You can play games, stream content from over 100s of apps and control your smart devices as well with the voice-assistant Siri enabled remote.
Apple TV 4K supports both HDR10 and Dolby Vision which means you will be able to view crisp and vivid pictures, videos on your 4K TV. If high performance better remote control and voice commands, easy-to-use interface is what you are looking for in a streamer then Apple's streaming device will rightly check all these boxes.
5. NVIDIA Shield TV
If you prefer gaming over binging dark series and documentaries then NVIDIA Shield would be the best pick. This Android TV streamer can stream classic PC games from the cloud via GeForce NOW. In addition to the Android TV games, game streaming allows you to pull games from your computer and stream them to the Shield.
The NVIDIA Shield is slightly less expensive than Apple TV 4K and what's good about this streamer is that it delivers better performance than the latter with its Tegra X1+ chip. The NVIDIA streamer has AI upscaling and support for HDR10, Dolby Vision, and Dolby Atmos.
On the inside, it has 2GB of RAM and 8GB of internal storage. The Shield has Chromecast built-in which means you can cast content directly from your phone, tablet, or computer.
Besides acting as a microgame console the NVIDIA streaming media player includes all the major services- Netflix, Prime, Twitch, HBO, Sling TV, Vudu, etc.
Conclusion
So here's our hand-picked list of best online video streaming devices for Smart TV. If you are a first-time user, Amazon Fire TV Stick 4K would be a suitable option given it features an easy-to-use menu and accurate voice search functionality to help you find content on Netflix or Prime Video easily. In case you are looking for a more affordable option then you can buy Google Chromecast 3 which does the basic streamer job.
For those who prefer better visual quality and a wider range of content, you can either opt for the slightly cheap Roku Streaming Stick+ or the expensive Apple TV 4K (depending on your budget). The NVIDIA Shield TV no doubt grabs the all-rounder title with its powerful chip and decent storage. Its AI upscaling focuses even on the minute details in a video, and with HDR10, Dolby Vision makes the NVIDIA streamer one of the cheapest 4K HDR streaming players on the list. That said, you can pick any of these streamers that best suit your needs and don't break your wallet.