Ethereum gas surged past USD 4,000, and we don't know when the rise will stop. So even the newbies are rushing into the industry to get the best GPU for mining Ethereum. Ethereum mining with GPUs has been practical and does not require specialized ASIC-based mining rigs, but GPU-based computation from mainstream players can get you in the business.
This is the best time to invest in a severe Ethereum mining rig. Unfortunately, all the big hardware manufacturers have already sold out their best offerings. So, let's take a look at some of the coolest and best GPUs to augment your Ethereum mining hardware.
Mostly, all graphics cards (GPUs) you will consider will be from either Nvidia or AMD. Both are big solid companies known for making GPUs that can be used for mining and gaming. Unless of exceptional circumstances, you can choose Nvidia or AMD and any other producer of the cards. But you will want to preference the GPU model carefully as they vary widely in memory sizes, memory speeds, wattage, and price. You don't want to buy it and find out it doesn't have enough memory for Ethereum mining.
Which is Best Ethereum Mining Hardware?
Ethereum mining is done using the Ethash algorithm, which can be exploited using powerful GPUs. For Ether mining to be profitable, you need to have the right hardware at the right price.
In addition, there are two major GPU manufacturers to choose from AMD and NVIDIA. Finally, it's essential to keep track of Ethereum's Casper update, rendering Ethereum mining obsolete.
If you want a comprehensive review of the different mining hardware, keep on reading. Here's what I'll cover:
Ethereum Mining Basics
AMD vs Nvidia
Choosing Mining Hardware
Best GPU for Mining Ethereum – Buyer's Guide
Frequently Asked Questions (FAQ)
Conclusion
Ethereum Mining Basics
If you're new to Ethereum mining, there are three crucial things you should know:
Ethereum Proof of Stake Update
VRAM Requirements
Mining Demand Drives Up GPUs Cost
Ethereum Proof of Stake Update
Using an algorithm called Casper, Ethereum developers are planning to switch to Proof Of Stake. Unfortunately, this switch will render Ethereum as we know it obsolete. The good news is that this update applies to Ethereum only. Other crypto coins using Ethash will not be affected, so your cards will still be able to function correctly by mining other Ethash coins.
VRAM Requirements
One important thing to look out for before buying mining hardware to mine Ethash is the Directed Acyclic Graph (DAG). Without going into details, a DAG is a file created every 30,000 Ethereum blocks. Since the DAG is stored in the VRAM of the GPU, your graphics card must have enough storage to load the DAG in. Because of this, you can only mine Ethereum with cards that have at least 4GB of VRAM.
Nevertheless, that might not be the case for other Ethash-based coins. So, in case you have old 2GB graphics cards at home and you're new to crypto mining, you can try it out on other crypto coins first.
Mining Demand Drives up GPUs Cost
Not long ago, GPU-based cryptocurrency mining stretched such a popularity level that the two companies producing GPUs (NVIDIA and AMD) could no longer supply the demand. This made retailers and secondary market sellers hike their prices.
An essential skill for a good miner is to hunt for deals where graphic cards are moderately priced. This can be done by checking out offline, online stores, and other secondary market outlets.
Additional Hardware Requirements
While the GPU is arguably the most crucial component in Ethereum mining, your system's hardware must match certain specifications. Here's what I recommend:
For Ethereum mining rigs of less than 6 GPUs, 4GB RAM is required. For more than that, I commend getting an 8GB RAM stick.
A motherboard with enough PCIe inputs is a crucial thing to look for in your motherboard; if you are building multiple GPU Ether mining rigs, your motherboard needs to have sufficient PCIe inputs to hold them.
A Powered riser cable for each graphics card.
An open-air rig for multiple GPUs.
A good power supply.
A good internet connection.
Ethereum Mining Software Requirements
Mining also requires specific software such as drivers and programs. Some of these are GPU specific, so I'll list only the common ones here:
Temperature Monitoring and Overclocking Software
Mining Software
Temperature Monitoring and Overclocking Software
This software program is intended to be used to tweak your GPU performance. It will make your GPU mine healthier (more hashes/secs), mine cooler (lower temperature is always suitable for the graphics cards), and mine more efficiently (consuming less power). Most miners use GPU-Z for temperature and power monitoring and MSI afterburner overclocking software.
Mining Software
Most people use the Claymore software for mining Ethash coins as it is one of the oldest and most supported Ethash miners. Some other programs have been surfacing since, such as Phoenix and Ethminer miner.
Nvidia vs. AMD
Nvidia graphics cards are easier to use, overclock, and configure (i.e., squeeze more juice out of the GPU). Nvidia cards do not need a long time to learn how to configure them, flash bios, or undervolt.
However, there's a tradeoff. AMD graphics cards are more suitable for the beginner miner in terms of price, as the base of AMD mining cards prices nearly 2/3 the price of its Nvidia counterpart.
AMD-based GPUs are also not as powerful as Nvidia's. Another critical advantage of Nvidia cards is that they are improved on a variety of other algorithms. While AMD cards are more efficient on Ethash and the Cryptonight algorithms, Nvidia cards beat them on most others.
Choosing Mining Hardware for Ethereum
I've compiled stats on the best available graphics cards, which should help you decide which one to pick. Here's a detailed explanation of the criteria:
Name
The chipset's name produced by NVIDIA or AMD for each card remains the same, while the model can vary. Some variations can also have better performance out-of-the-box as they can come factory overclocked, but this can be compensated by overclocking software.
Hash Rate
The rate the graphics card achieves under ideal mining conditions will be given as a range, which can be reached by overclocking, undervolting, or flashing a BIOS.
Power Draw
Power draw is the amount of electricity or power a card consumes while mining cryptocurrency, which is measured at the outlet.
Efficiency
Efficiency is measured by dividing the hash rate by power consumption. Newer GPUs are usually more efficient.
---
Six Best GPU for Mining Ethereum – Buyer's Guide
Ethereum's Ethash algorithm swiftly set itself as one of the go-to GPU mining algorithms on the crypto market. This blog post will cover the best GPUs for mining Ethereum available on the market.
---
1. NVIDIA GeForce RTX 3090 and cousins (Best GPU For Ethereum Mining)
Starting the list with our top-notch GPU, the NVIDIA GeForce RTX 3090 series is by far the best and fastest GPU available in the market. With the hash rate of 125.0 Mh/s, this is a beast of GPU for mining crypto and any other processing-intensive task.
Since graphics cards for mining Ethereum have to run for a long time, if not 24/7, it will be power-consuming. But, the good side is that it is the fastest GPU for minging Ether or any other cryptocurrency. So, after Bitcoin, Ethereum is the top-grossing crypto.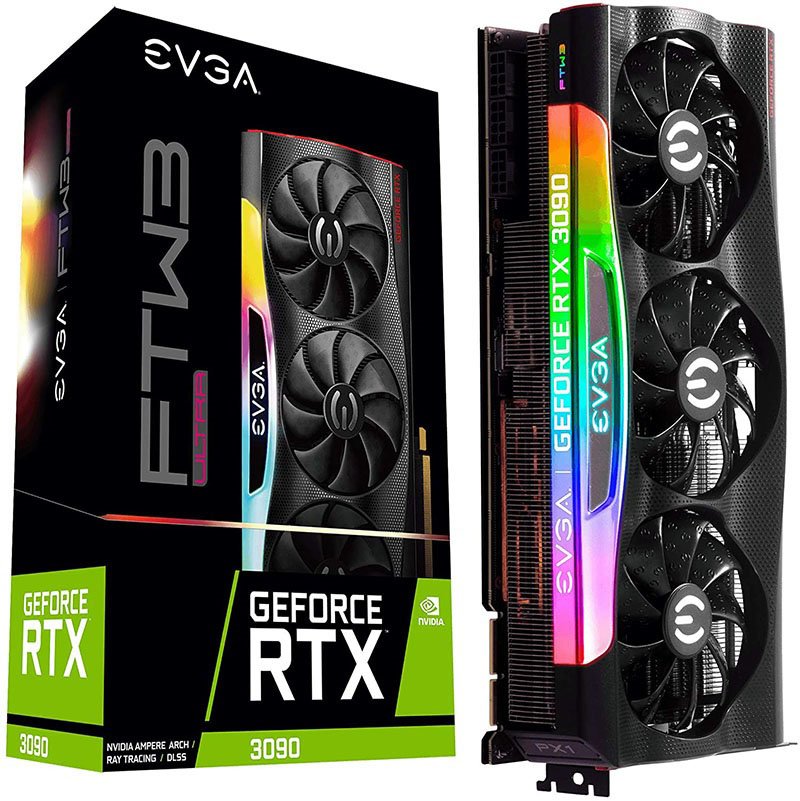 Key Specifications of NVIDIA GeForce RTX 3090
Graphics Memory: 24GB
Memory Speed: 19.5 GHz
Hash Rate: 125.0 Mh/s
Power Consumption: 300.0 W
Revenue
The daily revenue estimate is $9, while the monthly average is around $288.
2. NVIDIA GeForce RTX 3080
If you can afford one, NVIDIA's latest GeForce RTX 3080 graphics card is a beast. Launched back in January 2021, and top of the line for the GeForce 30 series, with Ampere microarchitecture. As per some mining benchmarks, the NVIDIA GeForce RTX 3080 delivers an unprecedented 75.0 MHash/s on the Dagger Hashimoto algorithm. Now, if you overclock it, performance hikes to 93.0 MHash/s. To put these numbers in perspective, the GeForce RTX 2080 Ti manages roughly 54.0 MHash/sec, while the older NVIDIA GeForce GTX 1080Ti turns in only 30.0 MHash/sec.
As for specifications, this graphic card comes with a base clock speed of 1440 MHz that can be boosted up to 1710 MHz. Also, it has 10 GB of GDDR6X memory. The best thing about this graphics card is that even with overclocking, this thing runs very cool. The temperature always stays within the 65.0 degrees Celsius range. Even though the fans run at 1,000 RPM (with no load), you can hardly hear them hum.
Still, there's a warning. It has a TDP rating of 320W, significantly higher than both GeForce RTX 2080Ti and GTX 1080Ti. With an overclock, power consumption quickly touches the low ends of 400W. If you can play around with different power limits, clock, and memory speed to maximize your cryptocurrency profit, NVIDIA GeForce RTX 3080 is your champion for 2021.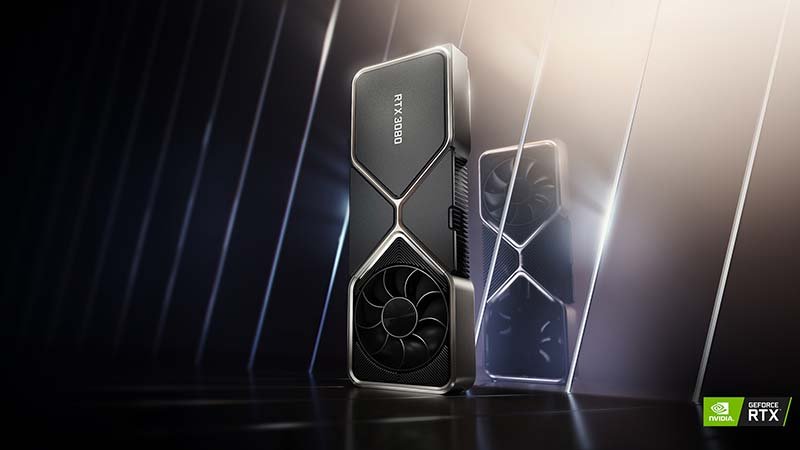 Currently, these are in short supply are a few similar products on Amazon that have this or similar GPU models:
Key Specifications of NVIDIA GeForce RTX 3080
Graphics Memory: 10 GB
Memory Speed: 1188 MHz
Hash Rate: 100.0 Mh/s
Power Consumption: 250.0 W
Revenue
The daily revenue estimate is $7 while the monthly average is around $224
3. AMD RX 6800 XT
AMD's flagship GPU AMD RX 6800 XT, is based on RDNA 2 architecture. In Ethereum mining, RX 6800 XT offers a 15% better performance than the previous generation of GPUs. For example, when using the Phoenix 5.2c miner on stock settings, AMD Radeon RX 6800 XT shows 58 to 60 MHash/s on 250W power consumption.
Sure, the video memory subsystem hasn't experienced a severe overhaul. But the 256-bit memory bus and GDDR6 are slightly faster, though. Not to mention, the latest drivers from AMD come with the fast timings feature intended to surge the overall performance of this series of GPUs in mining cryptocurrency, mainly Ethereum. When you enable this function, the hash rate rises by approximately 2 to 3 MHash/s.
To surge performance, you can also overclock the video memory up to 150 MHz. Unfortunately, because it's one of the newest cards, we don't have the rich mining experience that backs CPUs like RX 5700 yet. However, soon, expect to witness better mining settings for AMD RX 6800 XT to fine-tune crypto-mining rigs.
Note: Using the latest AMD Navi 21 GPU chip and the latest AMD Zen 3 CPU offers a remarkable boost in performance compared to using an AMD Zen 2 or Intel processor.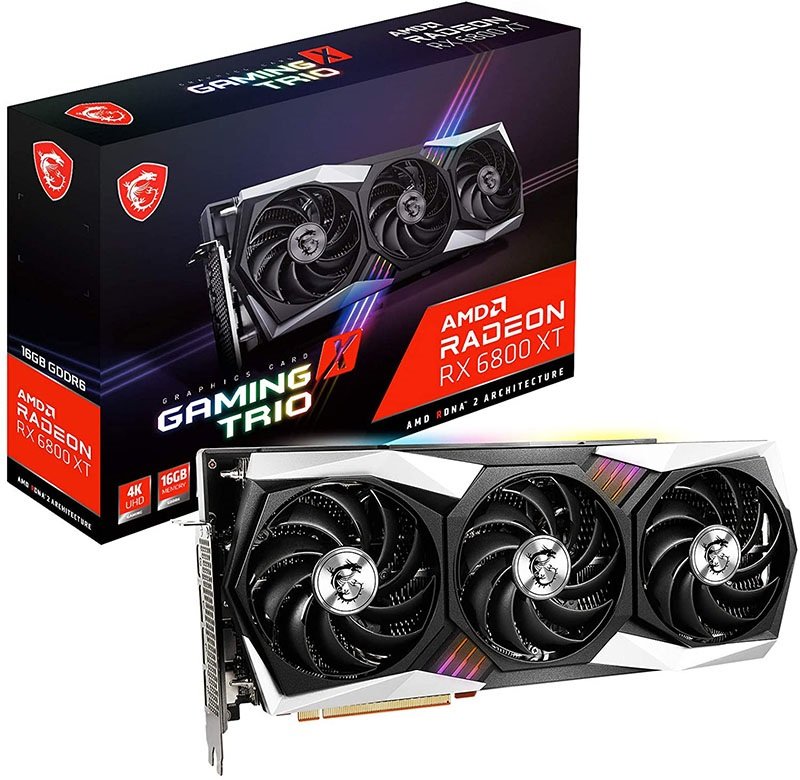 Key Specifications of AMD RX 6800 XT
Graphics Memory: 16 GB
Base Clock: 1825 MHz
Boost Clock: 2250 MHz
Hash Rate: 60 Mh/s
Power Consumption: 300.0 W
Revenue
The daily revenue estimate is $4.7 while the monthly average is around $146.
4. XFX Radeon Rx 5700 XT
When it comes to profitability, the XFX Radeon RX 5700 XT graphics card is a huge draw. That's because the GPU chip is based on 7-nm Fin FET semiconductor technology, which is a lot cheaper in cost than the latest 6800 series that consumes considerably more power.
The Navi 10 processor used in the card has a 1605 MHz base clock speed and a 1750 MHz memory clock speed. In addition, it features 160 texture mapping units, 64 ROPs, and 2560 shading units. Also, it has 8GB GDDR6 memory interconnected via a 256-bit memory bus interface.
The GPU runs at 52.0 MHash/s, drawing just 105 Watts from the power supply. Of course, you will need to overclock the graphics card and power to achieve these results. Gratefully, as it's an old graphics card, you can find plenty of tuning options online.
The only problem is, this graphics card is a bit tricky and harder to set for Ethereum mining. But, after it's all ready and working stable, the worry is worth the effort. We strongly recommend this GPU as long as you're getting it on the MSRP.
Key Specifications of XFX Radeon RX 5700 XT
Graphics Memory: 8GB
Memory Speed: 7000 MHz
Hash Rate: 56.6 Mh/s
Power Consumption: 130.0 W
Revenue
The daily revenue estimate is $4 while the monthly average is around $126
5. NVIDIA GeForce GTX 1080 Ti
The NVIDIA GeForce GTX 1080 Ti is still a solid GPU in 2021. What a beast of a graphics card! It provides a hash rate of nearly 38 MHash/s for Ethereum mining while consuming a meager power at approximately 250 Watts. Memory is critical for Ethereum Mining, and the GTX 1080 Ti has 11GB of GDDR5 memory operating at good memory speeds of 11 Gbps.
Agreed, GeForce GTX 1080 Ti is an old GPU with a 352-bit memory interface. Still, the PCB has 9 additional sensors and MCUs embedded in the chip. In addition, it has 88 render output, a massive 11 GB frame buffer, 224 texture mapping units for rendering purposes and HDMI 2.0 for the outputs, and two power connectors: One 6-pin and One 8-pin. That makes it an excellent choice for crypto-mining.
Inside, you get a GP102 graphics chip with 3584 shaders. And, the base clock speed of the card is 1481 MHz, and the memory clock speed is 1376MHz. At the same time, overclocking easily adds around +300MHz and 150MHz to both memory and clock speeds, respectively. And the best thing? Even with overclocking, the graphics card stays cooler than the GTX 1070.
The price of the graphics cards in the GeForce 10 series is reasonable as the series was released back in 2016, the price is higher for newer entrants. Overall, the EVGA GeForce GTX 1080 Ti is a solid graphics card for long time use.
Here are some cards available now on Amazon:
Key Specifications of Nvidia GeForce GTX 1080 Ti
Graphics Memory: 11GB
Memory Speed: 14.8 GHz
Hash Rate: 21.63 Mh/s
Power Consumption: 250.0 W
Revenue
This video card from NVIDIA is capable of generating up to $58 monthly income due to its 21.63 MH/s hash rate on the KawPow (NBMiner) algorithm.
6. AMD Radeon RX 480
The AMD Radeon RX 480 is one of the most economical and cost-efficient GPUs for Ethereum mining, thanks to a hash rate of 25.0 MHash/s. However, to reach this feat, the GPU runs at a core clock speed of 1095 MHz & a memory clock speed of 2160 MHz. That consumes approximately 70 Watts of power.
The Radeon RX 480 is equipped with 8GB GDDR5 RAM. Also, there's a 4GB variant, but it's less suitable for mining crypto. Coming to the performance, you get an Ellesmere processor chip with 2304 shaders. The base speed is 1120 MHz, and the memory clock speed is 2,000 MHz.
The AMD Radeon RX 480 can go toe-to-toe with heavy hitters, such as AMD R9 390x because it consumes far less power. It has a TDP rating of a mere 110W and comes with a single six-pin connector. So, you can even use it for gaming without upgrading your power supply.
It's also jam-packed with features such as DX12 support, VR readiness, and the latest GCN architecture. Overall, AMD Radeon RX 480 8GB is an excellent value for Ethereum mining. It has an excellent hash rate with very little power consumption.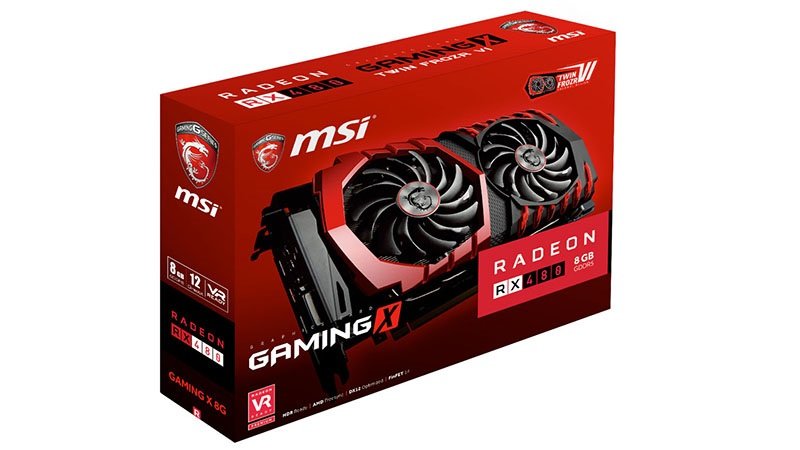 Key Specifications of AMD Radeon RX 480
Graphics Memory: 8GB
Memory Speed: 2160 MHz
Hash Rate: 25 Mh/s
Power Consumption: 70.0 W
Revenue
The daily revenue estimate is $2.3 while the monthly average is around $72.
---
Revenue from GPU for Mining Ethereum (Ether)
| | | | |
| --- | --- | --- | --- |
| Graphic Cards (GPU) | Hash Rate | Daily | Monthly |
| NVIDIA GeForce RTX 3090 | 125.0 Mh/s | $9 | $288 |
| NVIDIA GeForce RTX 3080 | 100.0 Mh/s | $7 | $224 |
| AMD RX 6800 XT | 60 Mh/s | $4.7 | $146 |
| XFX Radeon RX 5700 XT | 56.6 MH/s | $4 | $126 |
| Nvidia GeForce GTX 1080 Ti | 21.63 MH/s | $1.9 | $58 |
| AMD Radeon RX 480 | 25.0 Mh/s | $2.3 | $72 |
---
Frequently Asked Questions (FAQs)
What is the best GPU for mining Ethereum?
There are many GPU options available for mining Ethereum (Ether). With cryptocurrencies becoming more common in today's world, companies are developing more advanced GPUs that can give the best performance.
The most dedicated GPU on the market is the NVIDIA GeForce RTX 3090 which is one of the least expensive options but outperforms the more costly models, especially when mining Ethereum.
Another great choice is the AMD Radeon RX 5700, an older model that incorporates the Navi GPU technology while breaking 50 MH/s using 135W of power. Although it is just as fast as its upgraded model, the AMD Radeon RX 5700 XT costs less, making it just as reliable.
How many GPUs does it take to mine Ethereum?
Mining Ethereum takes at least one GPU, provided it exceeds 3GB of RAM. Many gaming laptops are capable of this thanks to their higher-end cards but bear in mind that mining can generate a lot of heat, which can negatively impact your computer if mining for long periods. Therefore, it's always best to go with a desktop PC rather than a laptop as it can withstand high temperatures.
Can any GPU mine Ethereum?
Technically, mining Ethereum can be done from the comfort of your home, providing you have a consumer graphics card made by either AMD or NVIDIA.
Is it still profitable to mine Ethereum?
Yes. With an efficient setup, low electricity cost, and proper cooling, you can still be profitable with Ethereum mining. However, mining Ethereum has become a very competitive game, and it's advised to do proper research and calculations before spending money on hardware.
What is the best Ethereum mining software?
Claymore is one of the oldest and most supported Ethash miners.
What is the best Ethereum mining pool?
ETHPool and Ethermine are the most popular mining pools for Ethereum today.
---
Conclusion – Best Graphics Cards For Mining Ethereum
It's a wrap on our best GPU for mining Ethereum guide. We hope this post helps you find your next Etherium mining GPU. Remember, whichever card you decide on, be prepared to spend a lot of time researching various resellers and retailers. Only then can you hope to find a reasonable price. Additionally, the performance of a GPU varies depending on the coin that is being mined.
Have you had any experience with the Ethereum mining GPUs mentioned above? Do you know of any other better graphics cards for mining Ethereum? Do let me know in the comments below.