5 Best 3D Wallpaper Apps For Android Phones & Tablets
Thanks to advancements in the tech world, Android lets you customize its entire interface according to your liking. You can use icon packs, app launchers, widgets, and more to customize your Android phones and tablets to look exactly how you want them to be. You can also customize your home screen background using the best 3D wallpaper apps for Android.
Wallpapers are the best way to customize the look of your device in seconds. I'm personally fond of 3D wallpapers. A good 3D live wallpaper just looks amazing and adds a little character to your device.
We'd also like to give an honorable mention to Google Photos (link) as it has a live wallpaper option now.
Things To Note Before Using 3D Wallpaper Apps
3D wallpapers deplete a good amount of hardware resources along with the power, so if your device configuration is low or you have very few memory spaces left, then just don't go for it.
3D wallpaper apps will empty your battery fast, you might face a low-battery issue almost frequently.
Performs well with a high amount of free space availability environment for both RAM and Storage. If your device is full of a high volume of heavy apps like utility and gaming apps, better avoid it.
Most wallpaper apps are not developed by highly skilled professionals or from a well-trusted company, so there are most chances of security risks.
Don't feed unnecessary permissions like camera, contacts, etc. to the app, if the app is requesting such permissions then delete and uninstall it immediately and clear the cache.
Read | 10 Best Calendar Apps For Android
5 Best 3D Wallpaper Apps For Android Phones & Tablets
In this article, we are going to share with you a list of the 5 best 3D wallpaper apps for Android smartphones and tablets which you can use to customize your device's home screen. Let's get started:
Asteroids 3D Live Wallpaper
3D Wallpaper Parallax – 4D Backgrounds
Earth & Moon 3D Live Wallpaper
3D Parallax Background – 4D HD Live Wallpapers 4K
Parallax View Live Wallpaper
1. Asteroids 3D Live Wallpaper
Asteroids 3D puts some unbelievably realistic backgrounds from the space and themed educational resources. There are a couple of themes to choose from, including different planets and space environments such as space stations and planets with asteroids moving past them.
Interestingly, you can customize the count of asteroids and their speed based on your requirements. And you can even enable the gyroscope to change the perspective as you tilt your phone. Overall, the animations are quite smooth, and the wallpapers look very realistic.
Price: Free
Rating: 4.2
Installs: 10,000,000+
2. 3D Wallpaper Parallax – 4D Backgrounds
Also featured in our best live wallpaper list, the app contains numerous 3D themes and parallax moving backgrounds to customize your phone's home screen. The collection includes planets, nature, landscapes, superheroes, and more, including some dark ones to suit OLED displays.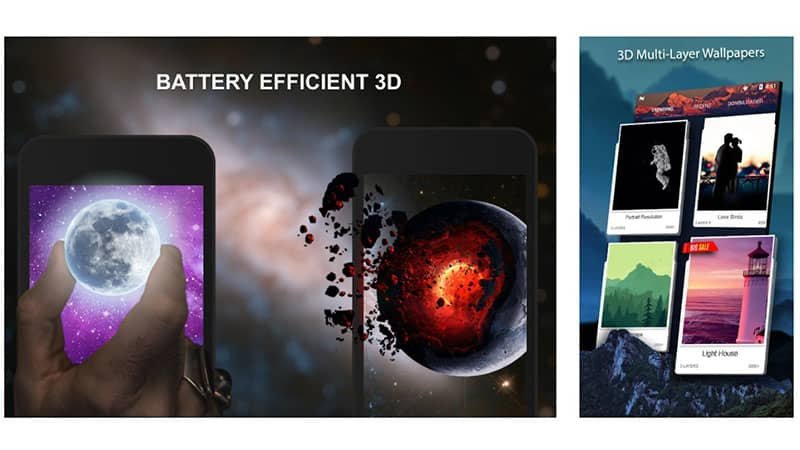 It uses gyroscope and accelerometer sensors on your phone to give a real depth feel with each movement. And guess what? You can even design your 3D wallpapers using existing images and share them with the community. Ads are a downside but, fortunately, can be disabled in the settings.
Price: Free
Rating: 4.4
Installs: 10,000,000+
3. Earth & Moon 3D Live Wallpaper
Earth & Moon in HD Gyro is yet another amazing 3D wallpaper for space lovers. It brings you 3-dimensional rotating earth with a moon that revolves around it. And the developer has included a lot of props such as realistic clouds with shadows, lens flare effects, sun, and other stars.
There's a good amount of detail on offer which looks even better on tablets. A lot of things can be customized, including the distance from the moon, day and night intensity, and the brightness of galaxies around. Plus, you can rotate the planet manually and zoom in for close lookups. Given the quality it offers, it easily is one of the best 3D wallpaper apps for Android phones.
Price: Free
Rating: 4.4
Installs: 5,000,000+
4. 3D Parallax Background – 4D HD Live Wallpapers 4K
3D Parallax Backgrounds offers some high-quality wallpapers with cool-looking depth effects, controlled by the gyroscope sensor on your phone. Each wallpaper has multiple layers, giving a realistic holographic appearance on your home screen.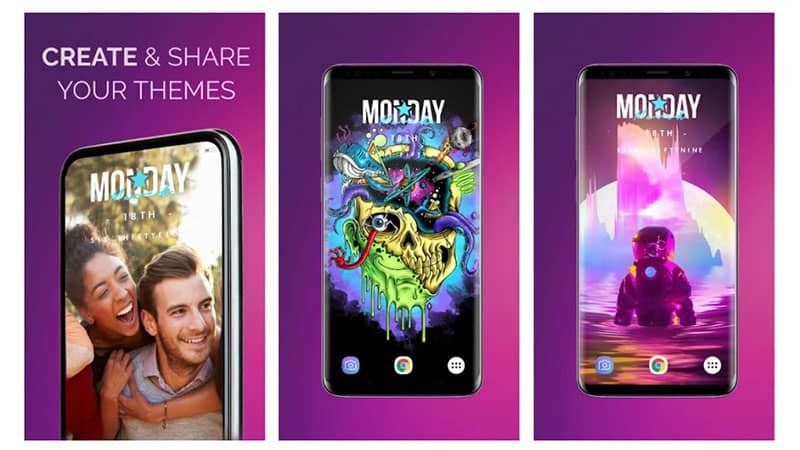 It also has a separate section for 4D wallpapers, which are regular walls, with each layer having its depth effect. As of now, the app has over 300 themes on offer with an option to create and share your themes. It is entirely ad-free but requires $2.61 for installation.
Price: Paid ($2.61)
Rating: 4.0
Installs: 500,000+
5. Parallax View Live Wallpaper
Parallax View provides you with a tunnel live wallpaper that supports a 3D depth effect based on your phone's movement. Tilting the phone makes it create the movement and depth illusion of a tunnel on your home screen, which looks great, especially on phones with full-view displays.
There are a total of five different backgrounds to choose from. And you can manually customize the color and tunnel speed for each preset. There's also an option to select start and end colors, which lets you create a mix of two colors in one animation. It is ad-supported and available for free on the Google Play Store.
Price: Free
Rating: 3.8
Installs: 100,000+
Which One Will You Get?
Given the fact that 3D changing wallpapers is one of the best customization options, you'll easily find a horde of such 3D wallpapers apps in the Google Play Store. The above was our top pick for the best 3D wallpaper apps for Android, what's yours?
Frequently Asked Questions (FAQs)
Are the 3D wallpaper apps safe to use?
There is no potential risk associated while using a 3D wallpaper app for Android and iOS, but make sure you download and install it from the official app store.
Do 3D wallpaper apps drain the battery fast?
Yes, 3D wallpaper apps can lead to drain the battery fast as compared to a static wallpaper.
Which is the best 3D live wallpaper app for Android?
You can select the Pixel 4D app, it has some stunning & beautiful 3D live wallpapers.
Do 3D wallpaper apps steal user data?
There is no exact-fact related to this, it may. But you must be aware of what permissions you are allowing while the installation of the app.
Do 3D wallpaper apps slow down the mobile?
Well, it depends upon your usage pattern and device type. If you have a lot of device resources available, you can use them without any worries. But if you are using an older device with fewer resources (RAM/Processor/Storage) you may experience some lags.